I agree with Ron. Don't throw parts at the problem. First, the GAUGE can be reading incorrectly, so get a cheap (Harbor Freight) radiant thermometer and confirm that the radiator is overheated. Test the radiator cap. Could a radiator hose (lower usually) be collapsing?-- replacing hoses is cheap and they don't show much wear on the outside, even when badly worn inside.
In addition, there are OTHER CAUSES of overheating -- the cooling system may be just FINE: in my case, I found that a dragging brake shoe caused overheating.... Easy diagnosis: Drive car, park when temp gauge starts moving way up, immediately go to each wheel and feel for heat -- if one (or more) wheel(s) (is) are hotter than the others, this could be your problem. The Harbor Freight cheap thermometer would be helpful here. Is your parking brake sticking (mine is on the driveshaft)?
The cooling system worked very well in 1957 without all the additions/expense you are considering. CONFIRM the problem and then DIAGNOSE the cause.
Good luck.... Please let us know how things work out.
Jim
-----Original Message-----
From: Ron Waters <ronbo97@xxxxxxxxxxx>
To: L-FORWARDLOOK <L-FORWARDLOOK@xxxxxxxxxxxxx>
Sent: Fri, Jun 21, 2019 5:50 pm
Subject: Re: [FWDLK] Upgrading Radiator, Secondary Fan, Coolant Recovery Kit for 1957 Dodge
How do define overheating ? Does the needle go into the red when driving ? Stopped at a light ? Stuck in traffic ? Is it boiling over ? Have you used a heat gun to find out the actual temperature of the intake ?
Honestly, it sounds like you are just throwing parts at it, hoping one will magically solve the problem.
Has the radiator been tested by a radiator shop ? Have you checked your timing lately ?
In the last year or so have I had problems with overheating with my 1957 Dodge Custom Royal. I gave the cooling system a very thorough flush, and replaced the thermostat, with no improvement.
I'm replacing the water pump, since that was the last component to be swapped out before the trouble started.
I'm thinking of upgrading the radiator to something with better cooling capacity. Can anyone point me in the direction of a supplier?
And do you have any recommendations for a second fan and for an overflow recovery kit?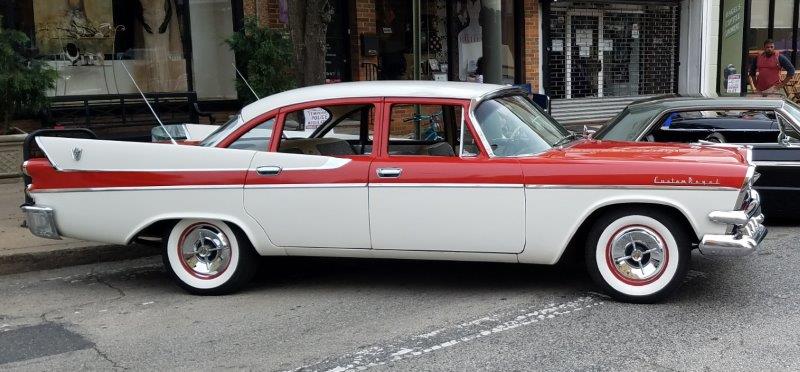 *************************************************************
*************************************************************