On the passenger exhaust manifold, there is a choke that directs exhaust heat to the top of the engine to improve starting. A thermostatic spring is attached to the choke, which is supposed to open the choke once the engine starts to warm up. These chokes are often frozen. If frozen in the closed position, can cause overheating. This is often overlooked when diagnosing overheating problems.
I'm throwing parts at the issue because two different mechanics have been unable to give me a solution, other than to tell me to avoid city traffic and parades.
Needle goes into red during low speed travel. It boiled over during parade last July 4th, which never happened before. That's when I did a three-day flush and replaced the thermostat and hoses. Still running hot after a period of low speed driving, though temperature is okay at higher engine revs. I remove the thermostat entirely and it made no difference. Engine timing is fine and everything runs perfectly otherwise.
From: Ron Waters <ronbo97@xxxxxxxxxxx>
Sent: Friday, June 21, 2019 5:50 PM
To: jwilliams@xxxxxxxxxxxxxxx; L-FORWARDLOOK@xxxxxxxxxxxxx
Subject: RE: [FWDLK] Upgrading Radiator, Secondary Fan, Coolant Recovery Kit for 1957 Dodge
John -
How do define overheating ? Does the needle go into the red when driving ? Stopped at a light ? Stuck in traffic ? Is it boiling over ? Have you used a heat gun to find out the actual temperature of the intake ?
Honestly, it sounds like you are just throwing parts at it, hoping one will magically solve the problem.
Has the radiator been tested by a radiator shop ? Have you checked your timing lately ?
Ron
---
From: Forward Look Mopar Discussion List [mailto:L-FORWARDLOOK@xxxxxxxxxxxxx] On Behalf Of John Williams
Sent: Friday, June 21, 2019 4:31 PM
To: L-FORWARDLOOK@xxxxxxxxxxxxx
Subject: [FWDLK] Upgrading Radiator, Secondary Fan, Coolant Recovery Kit for 1957 Dodge
In the last year or so have I had problems with overheating with my 1957 Dodge Custom Royal. I gave the cooling system a very thorough flush, and replaced the thermostat, with no improvement.
I'm replacing the water pump, since that was the last component to be swapped out before the trouble started.

I'm thinking of upgrading the radiator to something with better cooling capacity. Can anyone point me in the direction of a supplier?
And do you have any recommendations for a second fan and for an overflow recovery kit?
Thank you!
John WillIams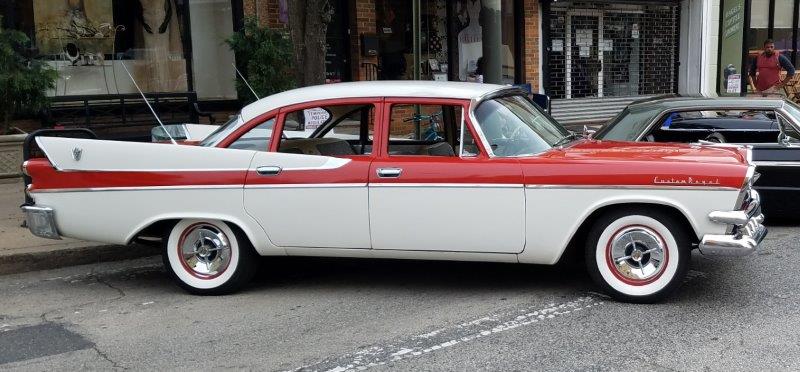 *************************************************************
To unsubscribe or set your subscription options, please go to
http://lists.psu.edu/cgi-bin/wa?SUBED1=l-forwardlook&A=1
Help The Forward Look with every Amazon purchase by clicking here!
Help the Forward Look with every eBay purchase by starting your search here!